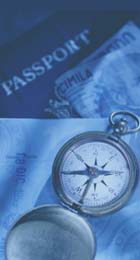 RiskPlans.com has been serving healthcare needs for more than thirty years.  We provide coverage for Individuals who are traveling worldwide as Tourists, as Students and Business Persons.  We provide those coverages on an indemnity basis anywhere in the world.   We also provide Health Insurance right here in the USA for International Travelers or temporary or permanent Foreign Residents and Diplomats.  Our programs can also provide coverage for your Pharamacy needs and your Baggage.
As an added benefit we can rate you online right here, quote you, and write your policy electronically and deliver it to you immediately over the web.  If you have an iPhone we can provide you with an application which will provide you with directions to Doctors and Hospitals on our network anywhere in the world.
We provide you with high limits temporary coverage as well as annual coverage and a range of deductible.  You can select the plan you want and quote yourself now.  If you need help or advice please contact us on our chat facility.
---

Renewable International health insurance. Provides comprehensive coverage in and out of the U.S., up to a $5,000,000 limit.

Travel insurance that emphasizes health and accident protection. Includes evacuation insurance and up to $1,000,000 in medical benefits.

Health insurance designed for international study, including evacuation coverage and more.
(To qualify for this coverage you must have an existing health insurance policy.)

All inclusive travel insurance including trip cancellation and interruption, medical evacuation and baggage protection.

To compare our plans, review prices and enroll instantly, start by getting a quote.
(To qualify for this coverage you must have an existing health insurance policy.)

---

Existing health insurance policy not needed.

International Major Medical for Foreign Nationals Visiting or Working in the USA


International Medical Insurance for US Citizens Traveling Abroad


Accidental Death, Dismemberment & Cardiac Arrest Insurance